'Yoga is as scientific as it is spiritual.'
RESEARCH PROJECTS
RESEARCH
The body of evidence on therapeutic effects of yoga interventions for cancer patients and survivors is robust and growing. A literature search on "yoga" and "cancer" in the U.S. National Library of Medicine (PubMed) yielded 757 results including observational studies, systematic reviews, and clinical trials. Although a full literature review is beyond the scope of this paper, the studies summarized here suggest yoga can not only help adult cancer patients and survivors manage symptoms and side effects, but also help them lead longer, healthier lives.
While studies on yoga for cancer populations vary in their methods and sample sizes, this overview of medical research incorporates systematic reviews and randomized controlled trials whenever possible. The studies summarized herein provide substantial evidence on the benefits of cancer-specific yoga interventions at clinically meaningful endpoints.
The research includes a variety of cancers and stages (although breast cancer has been the most studied) and observes patients before, during, and after treatment. While yoga is no cure-all, there is substantial evidence that well-crafted interventions have measurable positive effects on health and healing.
Ample research suggests yoga interventions increase strength and flexibility; improve balance and mobility; lower blood sugar and cholesterol levels; support healthy body weight; improve psychological well-being; lessen fatigue; improve sleep; reduce anxiety and stress; improve quality of life; and enhance the immune system. These effects have been explored in both healthy populations and among people with a variety of diseases and disorders including chronic pain, arthritis, heart conditions, multiple sclerosis, PTSD, depression, anxiety, addictions, and cancers.
White Paper
Yoga Interventions for Cancer Patients and Survivors
A robust review of existing research on the impact of yoga on cancer survivors and patients and the short- and long-term side effects cancer survivors face. Plus an initial guide to healthcare professionals on how to include a yoga intervention in their institution.
Developed by medical writers, oncologist, researchers and y4c team.
Translated into Japanese and Spanish.
Printed copies to be distributed to over 100 hospitals, cancer centers and oncology leaders.
Funded by the generous donors and contributors of yoga4cancer Foundation.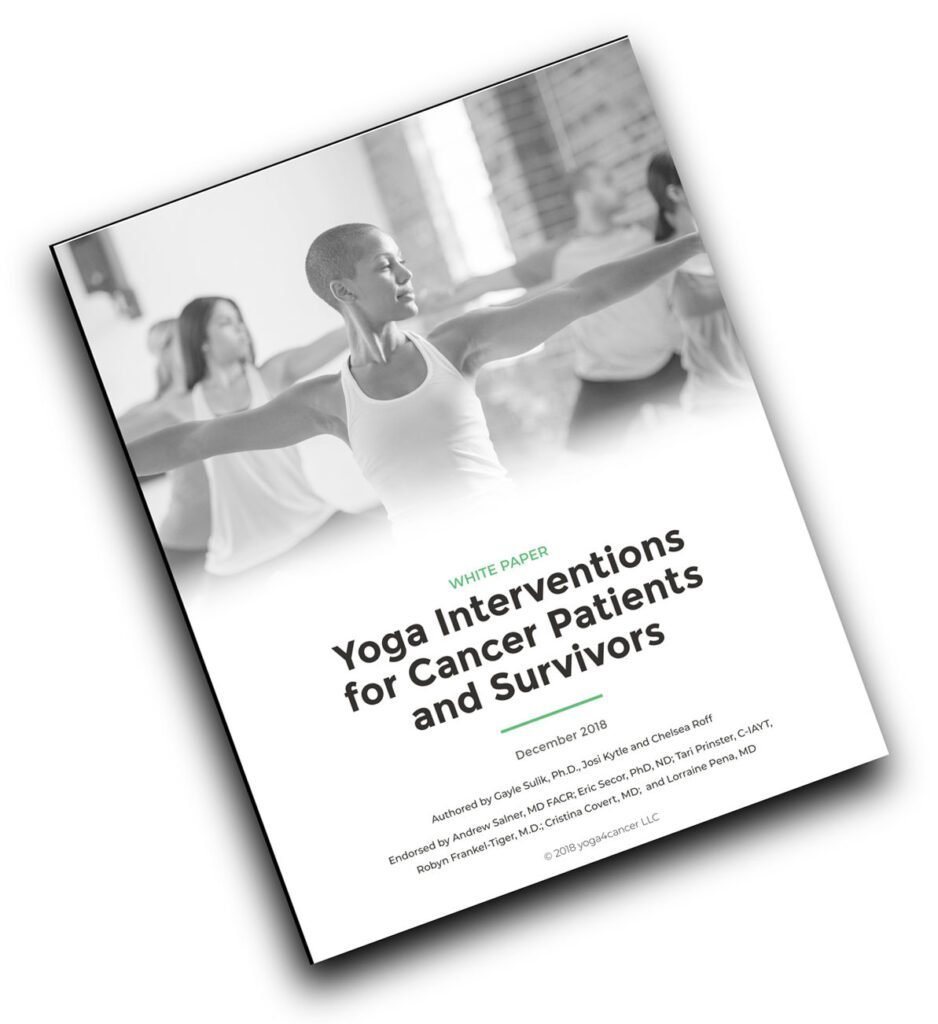 Research Trial
Establishing "Y4C" as the Hospital-Based Gold-Standard Yoga for Cancer Patients and Survivors
Background and Purpose: The benefits of yoga in improving cancer treatment and survivorship have been investigated in numerous conditions with a variety of yoga traditions. Within the Hartford HealthCare Cancer Institute, Hartford Hospital, yoga has been offered to cancer patients by numerous practitioners, with different training and expertise. Often this results in difficulty for patients, families and clinicians in selecting an optimal yoga referral and treatment. Integrative Medicine partnered with Yoga for Cancer "Y4C" creator Tari Prinster to evaluate establishing Y4C as the "gold standard" program for our cancer community. Therefore our purpose was to assess the feasibility of:
Training high quality yoga providers in the Y4C method
Developing an IRB approved protocol with QOL and Y4C outcomes,
Recruit cancer patients into the hospital-based Y4C program.
Research Trial
Evaluating a Structured Yoga Practice on Common Side Effects of Chemotherapy/Biotherapy in Cancer Patients
By Patricia Johnson, BS, RN, OCN, CBCN; Carlyn Haag, MS, RN-BC, CCRN-K; Mary Nolan, RN, OCN UVMHN
Objectives: To evaluate the effects of a structured yoga program on specific physiological and psychosocial side effects in patients undergoing active treatment with chemotherapy/biotherapy.
Background: Eight of the most commonly experienced physiological and psychosocial side effects of cancer chemotherapy/biotherapy are pain, tiredness, drowsiness, nausea, lack of appetite, shortness of breath, depression, and anxiety. Yoga is a complementary health approach recognized by the National Institutes of Health.
As published, Journal of Oncology Navigation & Survivorship on September 2019, Vol 10, No 9.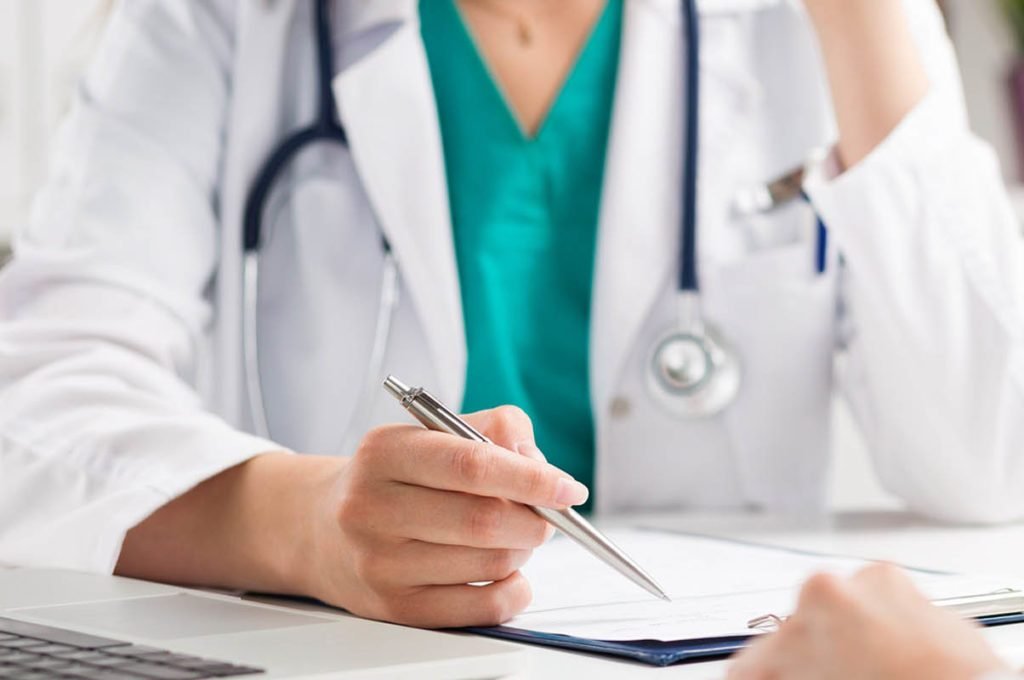 Research Article
Yoga for cancer survivors with chemotherapy‐induced peripheral neuropathy: Health‐related quality of life outcomes
By W. Iris Zhi, Raymond Baser Ting Bao, Dristi Talukder, Qing S. Li, Tina Paul, Clare Patterson, Lauren Piulson, Christina Seluzicki, Mary L. Galantino
Background: Yoga is a meditative movement therapy focused on mind-body aware- ness. The impact of yoga on health-related quality of life (HRQOL) outcomes in patients with chemotherapy-induced peripheral neuropathy (CIPN) is unclear.
Methods: We conducted a pilot randomized wait-list controlled trial of 8 weeks of yoga (n = 21) versus wait-list control (n = 20) for CIPN in 41 breast and gyneco- logical cancer survivors with persistent moderate to severe CIPN. HRQOL endpoints were Hospital Anxiety and Depression Scale (HADS), Brief Fatigue Inventory (BFI), and Insomnia Severity Index (ISI). The Treatment Expectancy Scale (TES) was ad- ministered at baseline. We estimated mean changes and 95% confidence intervals (CIs) from baseline to weeks 8 and 12 and compared arms using constrained linear mixed models.
Results: At week 8, HADS anxiety scores decreased −1.61 (−2.75, −0.46) in the yoga arm and −0.32 (−1.38, 0.75) points in the wait-list control arm (p = 0.099). At week 12, HADS anxiety scores decreased −1.42 (−2.57, −0.28) in yoga compared to an increase of 0.46 (−0.60, 1.53) in wait-list control (p = 0.017). There were no significant differences in HADS depression, BFI, or ISI scores between yoga and wait- list control. Baseline TES was significantly higher in yoga than in wait-list control (14.9 vs. 12.7, p = 0.019). TES was not associated with HADS anxiety reduction and HADS anxiety reduction was not associated with CIPN pain reduction.
Conclusions: Yoga may reduce anxiety in patients with CIPN. Future studies are needed to confirm these findings.
Research Article
Yoga and its possible role in prevention and treatment of lung cancer
When a yoga teachers says, 'Take a deep breath in.', we have no doubts it will make us feel good. It is "prana". Breathing as the source of life-giving and sustaining oxygen is common knowledge. But to someone with lung cancer, there may be doubts the simple patterned breathing called pranayama can hold as much promise as allopathic medicine. Here are two independent research conclusions with solid evidence that breathing can also be a source of healing. It is encouraging to see Western researcher explore and endorse yoga as complimentary treatment for lung cancer. The reports from patients and survivors from these two projects was outstandingly positive.
See article by Gulshan Kapadia is Yoga therapist at Saifee Hospital, Mumbai. As published in the Statesman
Other Projects and Resources: