Our Mission
To help cancer patients and survivors manage treatment side effects and cancer recovery through evidence based Oncology Yoga.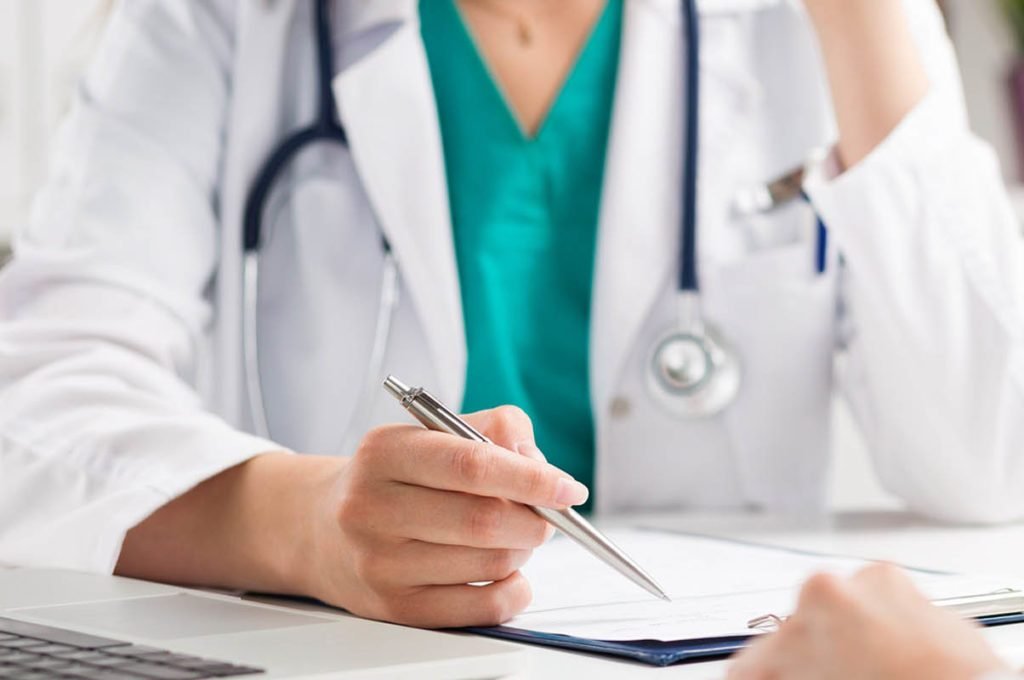 EXPERT APPROVED
Oncologists recommend yoga.
Yoga seems an obvious path for cancer patients and survivors coping with difficult treatments and their ongoing side effects. In fact, oncologist and cancer organizations are recommending yoga and exercise as part of a cancer survivors recovery and management plan.
Both the American Cancer Society and the U.S. Department of Health and Human Services recommends between to 150 – 320 minutes of yoga per week to speed recovery or defend against cancer occurrence and reoccurrence. The 2018 guidelines highlighted that an active yoga practice (mentioning Vinyasa) was necessary.
But, not all yoga is the same and for cancer survivors the needs are different.
True compassion flows from knowledge and facts.
Without specific training, a yoga professional is not equipped to understand the unique physical and emotional needs and challenges of those touched by cancer.
Over the past decade, the volume of research to support yoga as a safe and effective way to manage cancer side-effects has grown.
Our evidence informed Oncology Yoga method and training programs provide the education, support and advocacy so that cancer patients and survivors achieve the exercise guidelines in safe and effective ways.
WHY THIS WORK IS NECESSARY?
Cancer in Our World
40% of the world's population will receive a cancer diagnosis in their lifetime.
17 million new cases of cancer were diagnosed worldwide each year.
68% of people will survive.
The cancer survivor population is large and growing due to the advancements in treatments. However, cancer treatment cause short and long term side effects that require management to improve long term health and survival.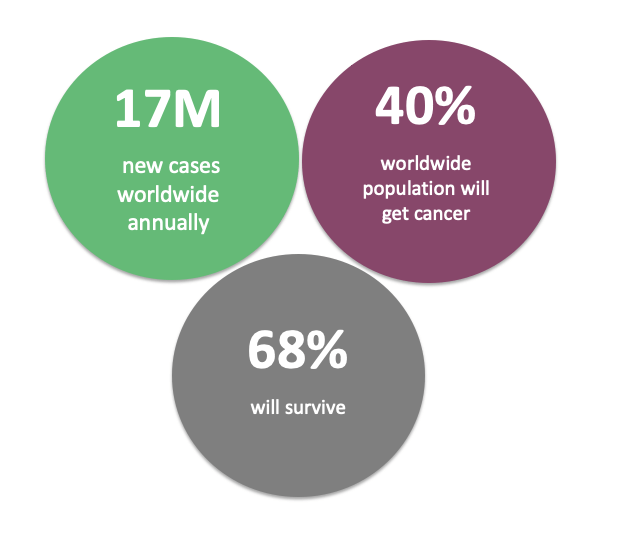 KNOW MORE
What is Oncology Yoga?
Oncology Yoga is an evidence informed yoga method tailored to address the specific physical and emotional needs left by the cancer and cancer treatments. It is an active practice that matches breath and movement to mitigate the short and long term side effects that cancer patients and survivors face like bone loss, lymphedema, scar tissue, constipation, neuropathy, fatigue, anxiety and many more.
yoga4cancer is Oncology Yoga.
yoga4cancer is designed to help cancer survivors achieve the oncology and healthcare organization recommendation to speed recovery or defend against cancer reoccurrence. Each session will:
build strength and flexibility
strengthen the immune system and the lymphatic function
reduce cancer related fatigue
improve sleep and reduce anxiety
increase bone density
help manage common side effects like lymphedema, constipation and neuropathy
and encourage survivors to participate in their wellness plan
the book on oncology yoga
Yoga for Cancer – Tari's Book
In the 5-Star reviewed Yoga for Cancer, Tari Prinster, the founder of yoga4cancer, shares her personal and professional experience in using yoga to manage the challenges of cancer and it's treatment.
Learn carefully selected yoga poses and sequences
Create a safe, home yoga practice
Adaptable for all levels of ability and addressing all cancer types
Learn the science and research on both yoga and cancer
Share in real life stories
Available in English, Spanish and Japanese.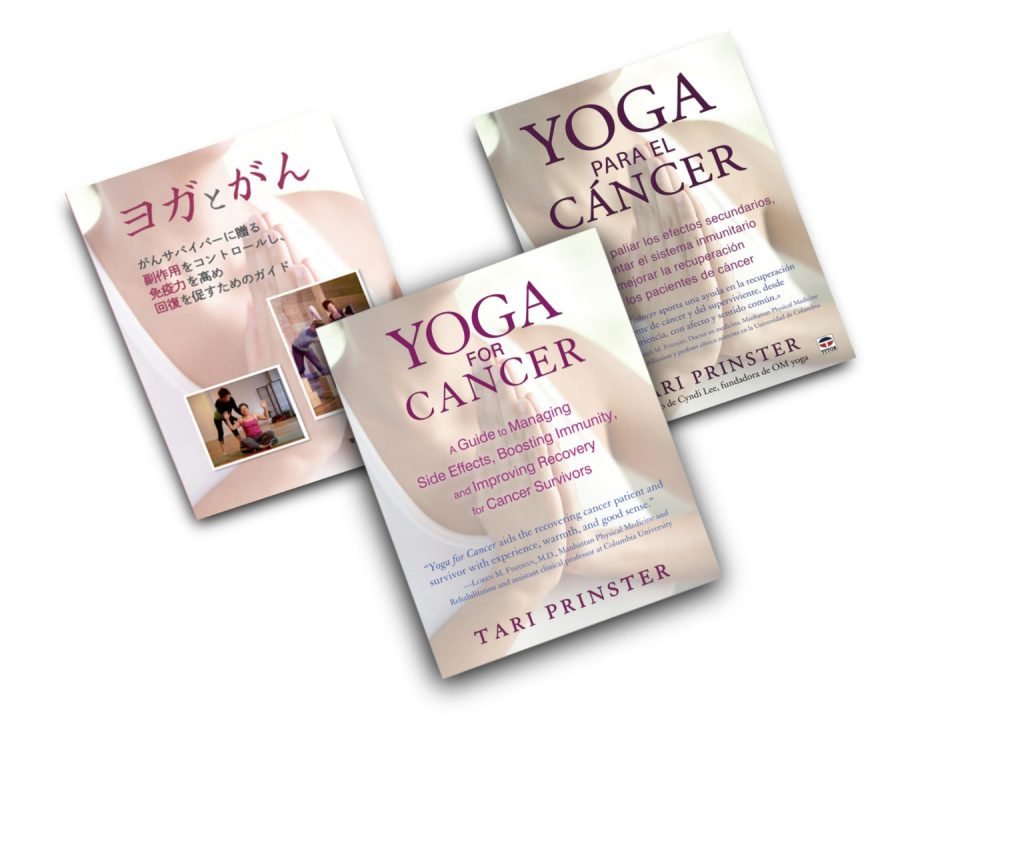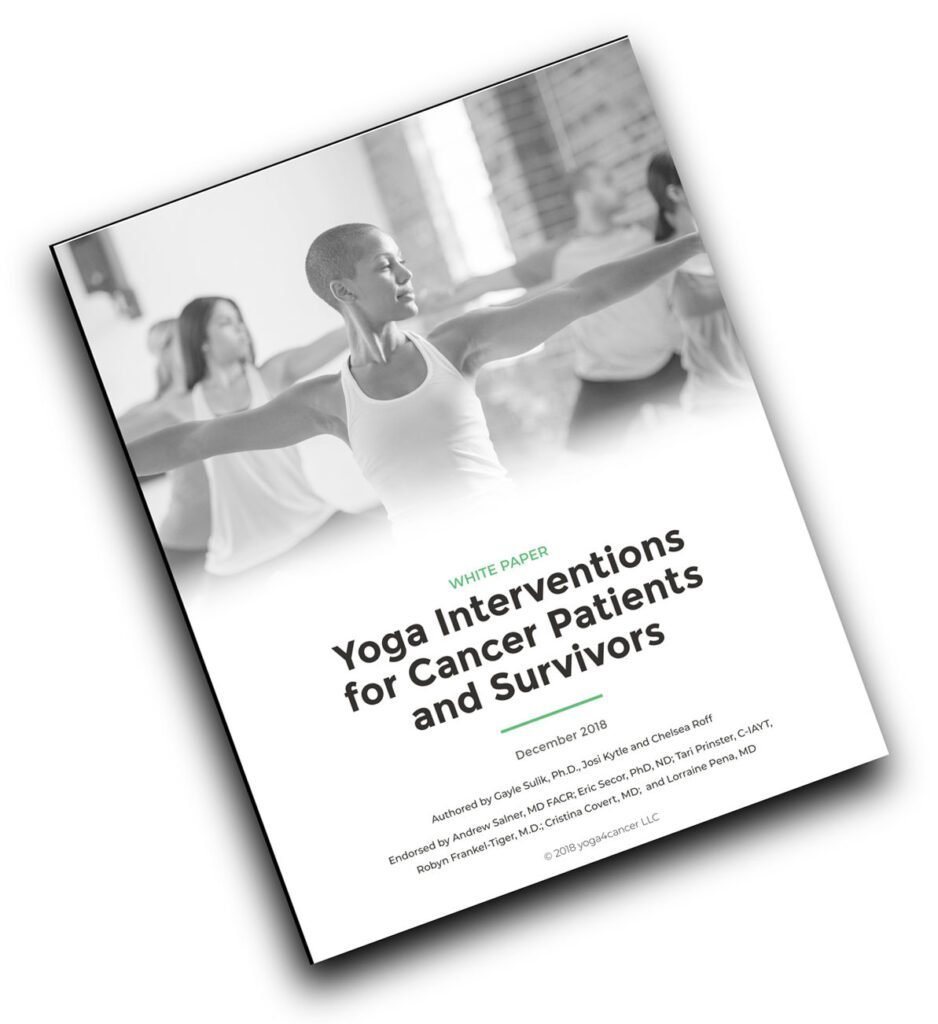 RESEARCH WHITE PAPER
Yoga Interventions for Cancer Patients and Survivors
A robust review of existing research on the impact of yoga on cancer survivors and patients and the short- and long-term side effects cancer survivors face. Plus an initial guide to healthcare professionals on how to include a yoga intervention in their institution.
Developed by medical writers, oncologist, researchers and y4c team.
Translated into Japanese and Spanish.
Printed copies to be distributed to over 100 hospitals, cancer centers and oncology leaders.
Funded by the generous donors and contributors of yoga4cancer Foundation.
People are Talking About us
In general, limitations, life-long side effects and vulnerabilities imposed by surgeries and cancer treatments are a kept secret. When the treatments are finished, you get to go home, alone, to sort out the mess. During my own recovery, I observed that yoga helped me in ways I did not anticipate. It continues to be my personal powerful tool of survival, or, as I now call my thrival.
I use the expression, "life-changing" very sparingly, but yoga4cancer was just that. Every bit of what I learned was critical information to teach yoga to students with cancer. This training provided me with practical and important tools and knowledge to teach safe and effective classes.
The survivor yoga class has been an emotional and physical bridge to my recovery. I started my yoga with the group before my chemo.  This kind of support cannot be found in a "regular" yoga class.
I loved my experience with yoga4cancer. I thought I was going for the asana and returned home with a deeper knowledge and a better understanding to cancer treatments, and how the human body responds to yoga. What a great experience with Y4C, such an eye opener. I will now teach yoga with a greater awareness.