with Yoga Alliance
Oncology Yoga Beginner's Series
In partnership with Yoga Alliance, yoga4cancer has produced a Beginner's Series designed specifically for cancer patients and survivors. The goal of this 6 segment series to support cancer survivors worldwide with safe and effective ways to manage potential side effects from cancer and its treatments.
About the Oncology Yoga Beginners Series:
40% of the world's population will face cancer in their lives, and most will survive. However, many cancer survivors face side effects left by cancer and treatments. These side effects can impact daily functioning, quality of life and impact mortality. Managing these side effects is part of the 'job' of a cancer survivor.
Yoga is a proven safe and effective way to manage many common side effects and support long term health. Plus, active yoga is a recommended way to achieve American Cancer Society's movement guidelines of 150 minutes per week. Our goal with this series is to provide short sequences focused on common side effects and to provide the motivation to get cancer survivors to include yoga into their recovery plan.
The Series Focuses on Six Side Effects:
Yoga for Cancer Related Fatigue
Yoga for Bone Health
Yoga for Range of Motion
Yoga for Anxiety
Yoga for Lymphedema
Yoga for Constipation
Each of these classes can be practiced individually, or collectively to create an entire 75-minute class. Remember taking the classes collectively is halfway towards achieving the weekly movement recommendation of 150 minutes for cancer patients and survivors! Learn more about the American Cancer Society Recommendations in our Research section.
The six chosen side effects are just some of those that cancer patients and survivors face. These side effects can be short lived or life long. Yoga has been proven to be a safe and effective way to manage many common side effects and support long term health.
Read more about the benefits in the white paper – 'Yoga Interventions for Cancer Patients and Survivors'.
Presenters:
Each of the teachers featured our certified Oncology Yoga trained professional and have been working with the cancer community for decades. Many are working in hospitals and contributing to research projects. Several are cancer survivors.
We are honored by their contribution and support of this project and our mission.
GET THE BOOK
Yoga for Cancer – The Book
Tari Prinster literally wrote the book on Oncology Yoga.
As published in 2014, 'Yoga for Cancer: A Guide to Managing Side Effects, Boosting Immunity, and Improving Recovery for Cancer Survivors' is the leading book to support cancer patients and survivors to manage their recovery. With all 5-Star reviews, its a perfect complement to any daily practice.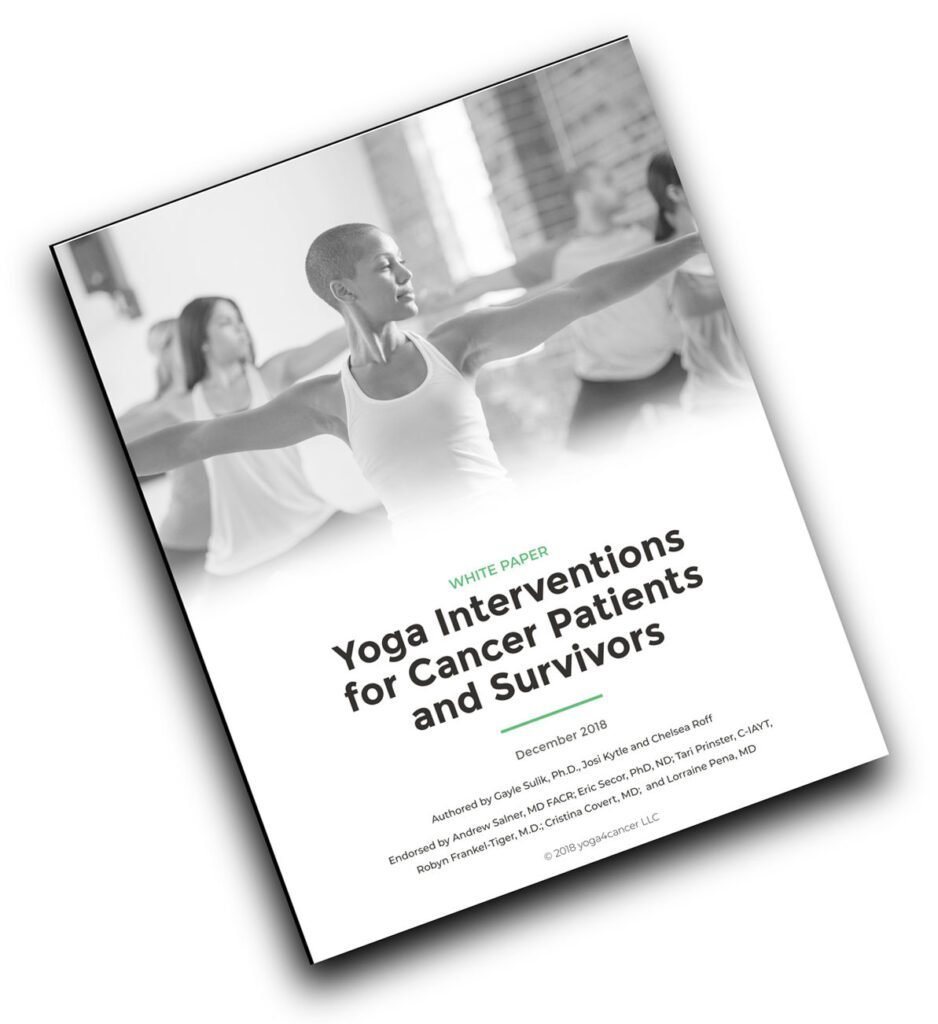 RESEARCH WHITEPAPER
Yoga Interventions for Cancer Patients and Survivors
A robust review of existing research on the impact of yoga on cancer survivors and patients and the short- and long-term side effects cancer survivors face. Plus an initial guide to healthcare professionals on how to include a yoga intervention in their institution.