by Tari Prinster
Yoga for Cancer:
A Guide to Managing Side Effects, Boosting Immunity, and Improving Recovery for Cancer Survivors
In the 5-Star reviewed Yoga for Cancer, Tari Prinster shares her personal and professional experience in using yoga to manage the challenges of cancer and its treatment. 
Learn 53 carefully selected yoga poses and 20 sequences in easy-to-follow illustrated guide
Create a safe, home yoga practice
Adaptable for all levels of ability and addressing all cancer types
Based on latest science and research on both yoga and cancer
Share in real life stories
Other Books for Consideration
People are Talking About our Book
"This book has been so very important in my recovery from surgery and the chemo currently undergoing. The yoga practices designed have helped me with range of motion, detox, lymphedema, neuropathy and general well being. I have incorporated the practices on a daily basis depending on my needs that day. I owe my positive reactions to treatment in great part to this book. Being relatively young when diagnosed and treated, it is so important to me to maintain my strength and well being and this has been a vital part of my treatment/recovery."
"Yoga For Cancer an instrumental aspect of healing, surviving and thriving after treatment." 
"As a general oncologist, I wholeheartedly support Yoga for Cancer. Tari has successfully blended the ancient art of yoga with the contemporary art of oncology in a beautifully mindful but scientifically based manner."
"A must have for any yoga teacher sharing yoga with the cancer community or who has cancer patients in their class. A great resource for cancer patients who may have had a yoga practice previously or are new to yoga to continue their yoga practice during their cancer journey. Tari explains the science behind cancer and the immune system far better than some in the academic and medical community. A must read to understand what cancer is, how it works in the body, and how yoga can help you heal and improve your health and immune system strength overall!"
TARI'S BOOK IN SPANISH
Yoga Para El Cáncer
Programa que recupera el propio bienestar En este libro, su autora, Tari Prinster, profesora de yoga y superviviente de cáncer, presenta de forma ilustrada y sencilla 53 posturas de yoga tradicionales adaptadas a todos los niveles y a los retos que el cáncer supone. Tari utiliza los movimientos y los ejercicios respiratorios de estas posturas para tratar 10 efectos secundarios, así como la práctica de 9 secuencias para las diversas etapas del tratamiento y la recuperación. Al compartir su propia historia y la de aquellos supervivientes al cáncer y profesores de yoga con los que ha trabajado, Tari Prinster
EUR: 24,70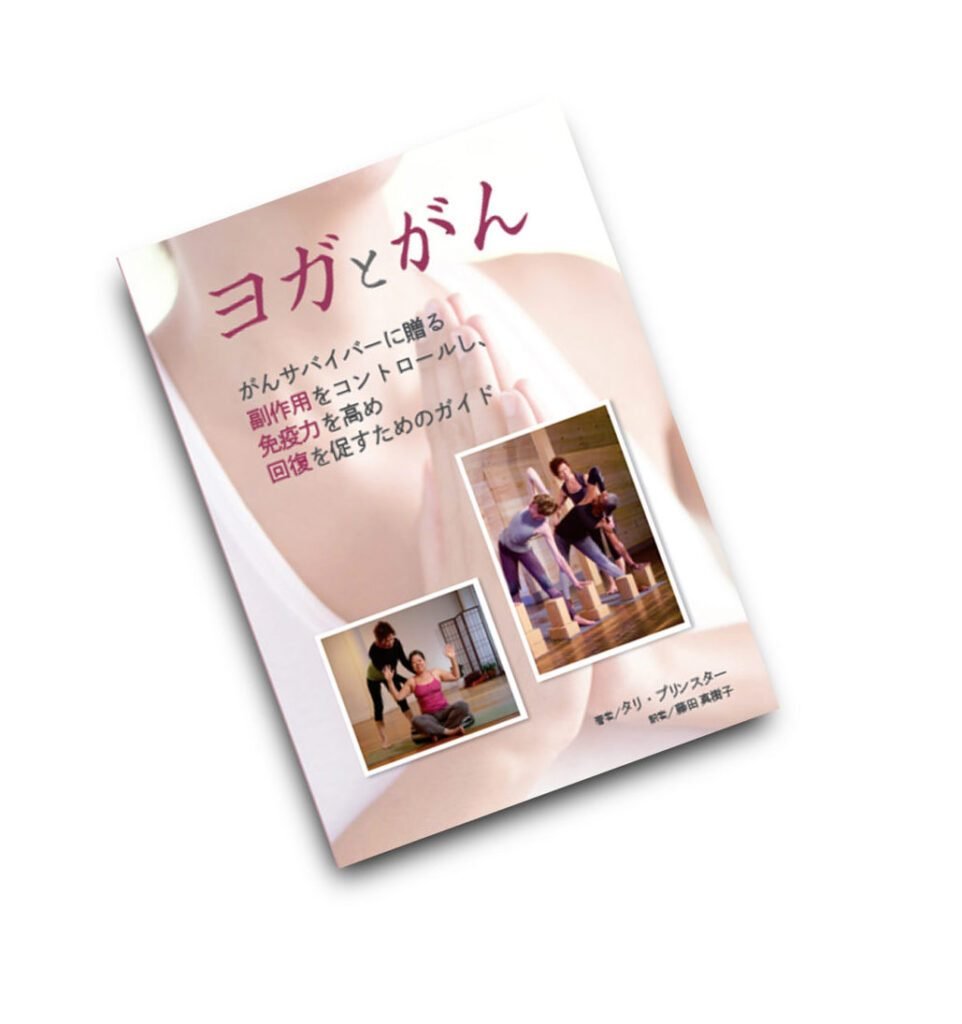 TARI'S BOOK IN JAPANESE
ヨガとがん (ガイアブックス)
内容(「BOOK」データベースより)
ヨガ講師であり、がんサバイバーでもあるタリ・プリンスターが、それぞれの能力段階やがんの課題に合わせた53種類の伝統的なヨガポーズを紹介します。これらのポーズの動きと呼吸を応用して、10種類の一般的な副作用に対処します。さらにさまざまな段階の治療および回復に合わせた9つのプラクティスシークエンスを提供します。プリンスターは、彼女自身の体験と、多くのがんサバイバーやヨガ講師の話も共有し、ヨガが免疫系を強化し、骨密度を取戻し、リンパ浮腫を予防および管理し、不安を解消し、体を解毒し、痛みを和らげ、がんと従来の治療によって損なわれた体を修復する上でいかに役立てられるかを、日々模索しています。サバイバー一人一人にいかにヨガを合わせるかを説明することで、それぞれの能力、体力、総合的な健康目標に対処する、安全な在宅ヨガプラクティスを構築するためのツールを提供します。
¥ 3,024 より 1 新品
To purchase wholesale, please contact Gaia Books.
Yoga Therapy Across the Cancer Care Continuum
by Leigh Leibel and Anne Pitman.
Published in December 2022
The word 'cancer' can spark fear and sets off a flurry of appointments, tests, and decisions, often leading to interminable waiting for diagnostic results and next steps. This book will prove essential to health professionals interested in yoga as a therapeutic intervention in the management of the complexities associated with a cancer diagnosis.
Several yoga4cancer Certified Teachers were honored to contribute to the book. Our hope and goal is to advocate for safe and effective support for cancer patients and survivors worldwide.