The yoga4cancer Certificate Program is a pre-requisite for anyone hoping to work with the cancer community. The 75 hour program is designed for yoga professionals to create safe and effective Oncology Yoga interventions.
yoga4cancer is a leading Oncology Yoga method designed to support all cancer types, stages and needs. The evidence informed yoga method is based on an active Vinyasa yoga style (in line with survivorship guidelines) that encourages movement coordinated with breath and accompanied by well-supported restorative poses to manage the short and long term side effects left by cancer and treatments. It is adaptable to meet the needs of cancer patients and survivors at any stage of treatment and recovery, and it can be applied in various ways by professionals of many different yoga styles and backgrounds.
The 75 hour program covers:
the physics and physiology of yoga
facts about cancer and cancer treatments
the guidelines for survivors and corresponding research
common side-effects of treatments
how Oncology Yoga can mitigate side effects, improve daily functioning and long term health
appropriate and inappropriate yoga practices
critical thinking to apply skills to all cancer patients and survivors
methods on how to credibly and authentically talk to cancer survivors and caregivers
how to talk with authority and credibility to healthcare providers
experience and practice in delivering a safe and effective Oncology Yoga intervention
and supervised teaching and mentorship.
How is the program delivered?
The 75 hour Certificate Program is designed to be self-paced and flexible for various schedules, our global community and learning styles. The program is best achieved by doing at least 4 hours of work per week over the 6 month program duration. Strategic events and large assignments have set deadlines to ensure comprehension and program completion, but how and when you study, practice and learn each week is largely up to you!
There are 15 live events scheduled throughout the Certificate Program. Each event is unique and designed to support your learning, create community, and answer questions. The live events schedule is available for download.
There are five components of the program:
Online Modules – include videos, quizzes, worksheets, assignments, activities, classes and more. They are accessible 24/7 and weekly completion is self-paced.
Manual –The 260 page manual is available for download at the beginning of the program.
Experience – Learning first-hand through practice, reflection and discussion.
Discussion – Opportunity to ask questions, interact and create community.
Teaching Practicum – The assignment wherein the theory and application of Oncology Yoga meet.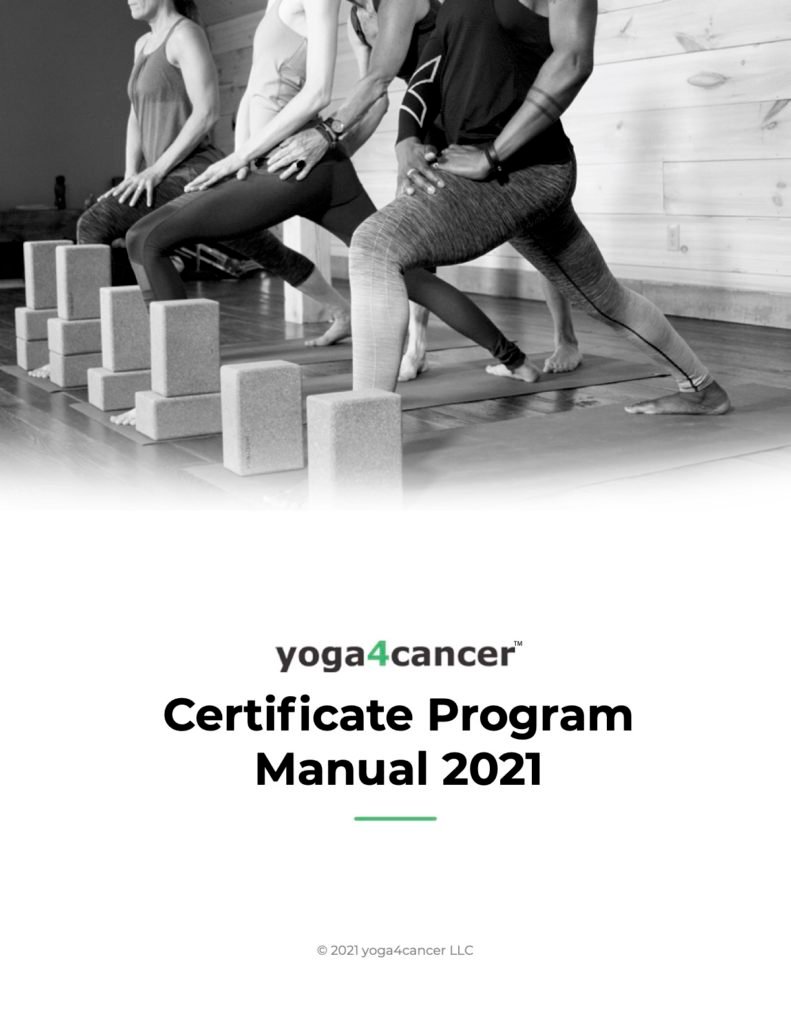 Sample Curriculum & Live Event Schedule
Live events and strategic assignment deadlines provide an over-arching schedule to help our community manage their time and provide an effective learning experience. Please review the specifics as provided in the registration page.
Watch a short video from Tari Prinster – the founder of yoga4cancer